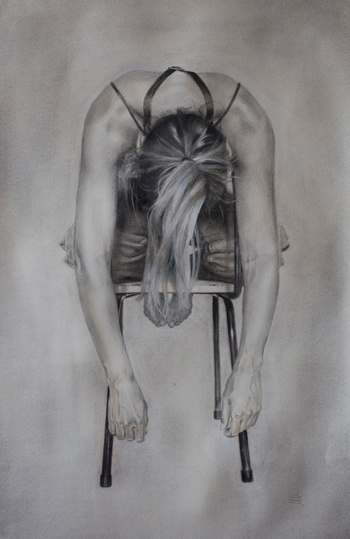 MAUD MASSELINK
RECENT
Mweh! 1 (2020) and Mweh! 2 (2021, available) are 2 large drawings I've worked on for several months. About contemplation and boredom, the nessecity of shutting the world out from time to time. The need to do nothing but simply hang out and breathe. Making room for creativity and re-newed energy.
In recent years I have become increasingly fascinated by drawing as an independent art form and bringing together wet and dry techniques in a drawing. Inspiring online classes with the Spanish artist Amaya Gurpide made things fall into place.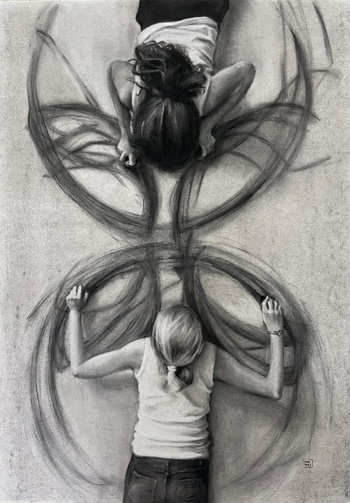 Charcoal angels is my most recent drawing (70x50 cm, 2022, available).
This drawing is based on one of my own photographs of a children's art project that was very dear to me.
The intensity, the sound of repetitive movements of the chunks of charcoal on the paper, the way the movements started to synchronize and melt together in one huge drawing was amazing. Completely absorbed in carefree play they reminded me of snow angels.
May all children have the opportunity to play like these two.
For this drawing I used a sanding technique to burnish the charcoal in the paper instead of just drawing on the surface. Annie Murphy Robinson's online lessons on charcoal sanding have been very inspirational. The process is time consuming and labor intensive but it opens new possibilities for detailing and makes the drawing more intense and durable.
LETTERBOX
While in quarentaine, I started creating a small collection of letterbox paintings. Brievenbus schilderijtjes in Dutch. Small collages on wood wich can be sent to peoples loved ones far away.
100 HEADS
In order to train my skills and to spread some joy in the process I started another 100 heads in 100 days. Unfortunately I had to put this to a halt halfway due to unexpected events. To be continued.
WORKSHOPS
I am very much looking forward to my new childrens workshops, to be surrounded by creative and bubbly kids and to see their ideas come to life.
COMMISSIONS WELCOME
In addition to my free work, I accept commissions. Surprise me with your creative ideas and I will make it work!
STUDIO VISIT
You are more than welcome to make an appointment to visit my studio. If you have any questions about my work, don't hesitate to call or email me!